How to run an Instagram bot on your local machine.
Instagram is the most popular social media on the internet. If you want to get more followers on Instagram, you can use bots. Today I will show you how to run an Instagram bot on your local machine. And how to decrease a chance to get banned.
But before we start, let's see what kind of bots you can use.  There are two types of bots, the first ones that run in your browser, and the others in the background. We will configure the latter. I will use a free, open-source bot called - InstabotPy.
Configuration
To run Instagram bot, you need to install python 3. Python's a programming language, and if you have already installed it, you can skip this step.
Go to python website and download the latest version of python(current is 3.7.4), and install it. Then you need to install python package manager pip. Here you can find step by step guide on how to install it.
Next, you need to install  Sqlite database; it's a lightweight database. This database will be used to store data about followers, likes, and comments.
Great, we are ready to install our bot. Open up your terminal or console and run this command:
python3 -m pip install instabot-py
Now you need to configure your bot, for this you will need to run next command:
instabot-interactive
You will enter to configuration mode.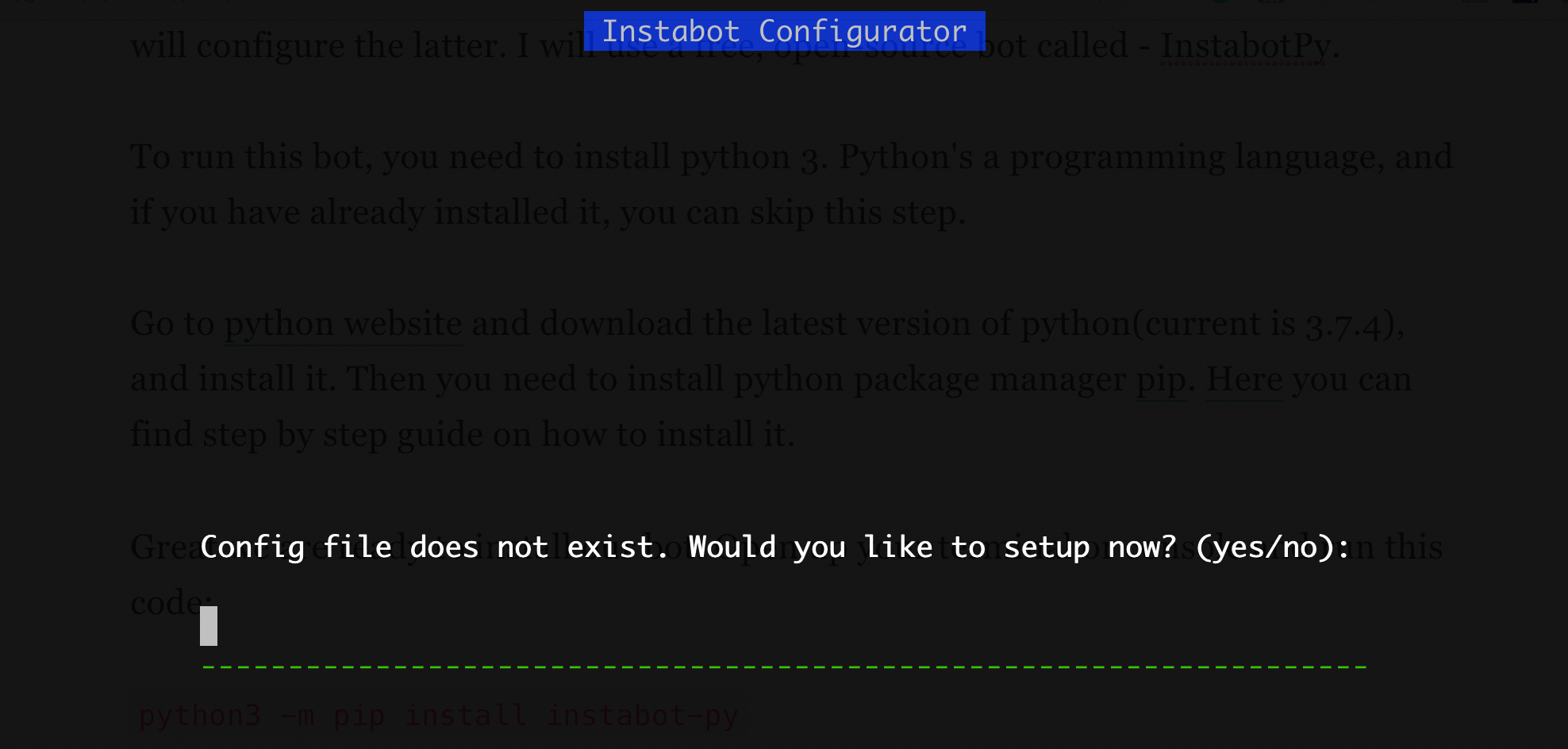 You will be asked to enter username and password, don't worry all data is stored on your local machine. Also, you will be asked to configure likes per day, comments per day, and so on. Set a small number at first, to decrease the chance to get banned.
When you finish, check your current folder you will see a new file created - instabot.config.yml
Now we are ready to run the bot, run this command:
instabot-py -c instabot.config.yml
On the first run, the bot may ask you for confirmation number sent to your phone(because you run it on a new machine). Just paste code and enjoy.

If you have any problems running this bot, or you received some errors, you can check the official repository and try to find the answers.
Still you have a chance to get banned. So use it on your own risk.
I suggest to run this bot from your local computer only or use a VPN. If you created a new account, decrease the number of likes per day, and do the same for comments and following. Do not run this bot 24/7.
I use this configuration on one of my accounts.
like_per_day: 300
comments_per_day: 14
max_like_for_one_tag: 20
follow_per_day: 180
follow_time: 36000
unfollow_per_day: 176
unfollow_break_min: 3
unfollow_break_max: 17
unfollow_selebgram: false
unfollow_probably_fake: true
unfollow_inactive: true
unfollow_recent_feed: false
If you wish to change any Instagram bot parameter, you can modify instabot.config.yml in any text editor.
If you liked this article, please share it. Thank you.